Seen at Sea Otter
April 22, 2014
Every spring the cycling world heads to the Central California coast for the Sea Otter Classic. Once known as the season-kickoff for the now-defunct NORBA mountain bike series, today the event gathers racers, cycling enthusiasts, and hundreds of brands for what's billed as the largest cycling festival on the continent.
In addition to four days of road and mountain bike racing, the expo area has become a hotbed of new product launches at almost exactly the opposite end of the year from the Interbike tradeshow. And despite the clear emphasis on traditional mountain bikes, when it comes to the latest and greatest, there were still plenty of enticing new products for the touring cyclist. Here's a quick look at what's coming up in the near future.
Salsa Bucksaw
Possibly the show-stealer at Sea Otter, the new Salsa Bucksaw is the first full-suspension fatbike and to judge from the crowds surrounding the booth all week, it's going to be a hot ticket. Offered in two component levels, the Bucksaw features an aluminum frame with carbon seatstays to improve stiffness. The Split Pivot rear suspension design is proven on traditional mountain bikes and is only lightly modified for the big wheels. Up front, RockShox's new Bluto fatbike fork — featured on many fatbikes around the expo to coincide with its launch at Sea Otter — provides 100mm of travel and a sight to elicit constant jaw dropping at the massive distance between stanchions. Available later this year, the Bucksaw will certainly be in future editions of our Fatbike Buyers Guide and will retail between $4,000 and $5,000.
Raleigh Tamland II
We were shocked to learn that the Tamland — Raleigh's entry into the "gravel grinding" world — takes its name from Steve Carrell's Anchorman character Brick Tamland. Perhaps because it's ready for any weather? We're not sure, but it's a campfire fact to amuse your riding buddies. The bike, though, is no joke. Classic lines and an understated color scheme headline a solid Shimano Ultegra spec with TRP disc stoppers on the Tamland 2 to create a cyclocross-inspired platform for all-day rides on backroads and some light touring. That very pretty chassis rides on fat 700C x 40 Clement rubber and provides quite a value at 2,200 bucks. Keep an eye out for a Tamland in an Adventure Cyclist Road Test feature later this year.
The Barfly SLi 31.8 and 35.0
The handlebar gadget holder is a crowded market, but nobody seems to build mounts as solid or as good-looking at The Barfly. At Sea Otter they showed off a new double-duty mount that can easily attach a Garmin or similar computer up top and a GoPro, light, or other accessory underneath for a clean and simple way to mount multiple items. The company is so sure its mounts are secure that they're planning to offer insurance for products attached to a Barfly mount. Two tiers — $20 and $40 annually — will be available to protect against any mishaps. The SLi will be available later this month.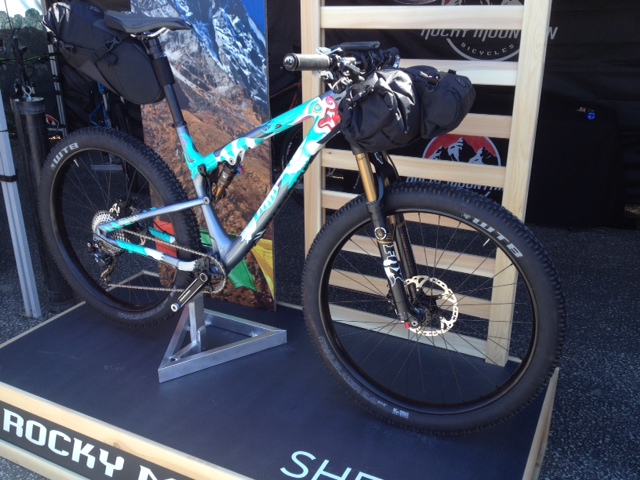 Rocky Mountain Sherpa Concept Bike
Another hot ticket continuing the big wheel fascination at Sea Otter was a concept bikepacking adventure bike from Rocky Mountain called the Sherpa. Built on a 29er chassis but rolling on 27.5 wheels with massive-but-not-quite-fat 2.8-inch tires, the fully suspended carbon bike was fully kitted out with Revelate bags and a Supernova dynamo front hub. A psychedelic Nepal-inspired paint job might not be for everyone, but is definitely distinctive. While Rocky Mountain told us there were no concrete plans to build the bike, constant crowds and positive feedback at Sea Otter were certainly encouraging for its push through to production.
Photos 1 & 2 by Alex Strickland | Photo 3 courtesy of Barfly | Photo 4 courtesy of Bicycle Retailer & Industry News
—
ADVENTURE CYCLIST ONLINE EXTRAS appear monthly on Adventure Cycling's blog. If you're an Adventure Cycling member, you can log into (or create) your My Adventure Cycling account to access the digital edition of Adventure Cyclist magazine and read the accompanying feature.
Not a member? Learn more and join today.