Brooks B17 Saddle
July 25, 2009
Brooks B17 Standard
The Brooks B17 saddle is an excellent upgrade for any touring bike. Providing cyclists with miles of comfort for over 100 years, it's sure to receive respectful nods of approval from fellow riders. This handmade, leather saddle is made in England, and is one of the best selling saddles in their lineup thanks to its versatility. It will be right at home both on and off road. For all of you seasoned cyclists out there, this is old news to you. This post is for people just getting into cycling, and for those of you who have known about Brooks saddles, but for whatever reason, haven't made the jump.
Years ago, my first introduction to the Brooks B17 was filled with mixed feelings. I had read the reviews, listened to the hype, checked out the competition, and decided to give it a try. As I pulled it out of the box, I was skeptical. Being accustomed to more modern saddles with gel cushioning, anatomic design, and center cutouts, it seemed bulky and stiff. Having already put down $80 for the B17 Standard model, I mounted it to my bike, treated it with Proofide, and rode away.
As I recall, the maiden voyage wasn't groundbreaking, but it wasn't bad. At 145 pounds, the break in process wasn't instantaneous, but with each ride I began to feel and see big improvements as the imprint of my sit bones began to shape the leather cover for an almost custom fit. After just a few weeks in the saddle, I was convinced that there was no turning back.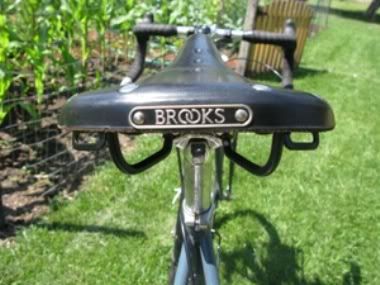 Rear view of the B17
For riders interested in the saddle, I often hear concerns about maintenance. It's true, a Brooks saddle requires a little more TLC than your average seat, but it's nothing to be worried about. Brooks recommends using Proofide to treat the upper portion of the saddle. Apply the wax based formula lightly with a soft cloth, and allow it to air dry. Once dry, give it a smooth polish with a clean, soft cloth, and start riding. This treatment will aid in the break-in process, as well as protect the leather from cracking. As far as rain is concerned, it does provide a small amount of protection, but you will still want to cover your saddle when left out in the rain. Fenders are also recommended to keep water off the underside.
After you start breaking in your saddle, you will notice that it begins to sag over time. Once this occurs, it's time to check out the tension screw on the underside of the saddle. This is best accessed with the Brooks spanner wrench, but a small adjustable wrench can also do the job. As you tighten the bolt, the leather tightens up as well without sacrificing the comfortable feel you've worked so hard to obtain. Be sure to make small adjustments, as once the bolt has reached the end of the thread, it's time to send the saddle into a dignified retirement.
While breaking in the saddle contributes greatly to your comfort, there are a few other features that help you look forward to long rides. There are some small holes punched through the center of the saddle that provide airflow, which makes hot days in the saddle very bearable. The leather surface itself is plenty wide for excellent weight distribution, and the sides are shaped nicely to prevent chaffing of the thighs.
So what could be more fun than riding a B17 saddle? How about picking one out. There are a plethora of options available with the B17 model. Aged leather, copper rivets, titanium rails, and various colors are all choices you can find yourself obsessing over. While some people might be anxious about spending $80+ on a saddle, you have to ask yourself how much you're willing to spend for years of comfort in the saddle.
?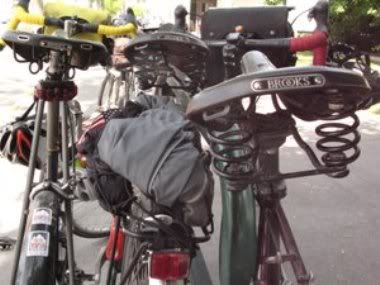 Adventure Cycling riders love their Brooks saddles
Photos by Josh Tack.
--
TOURING GEAR AND TIPS is written by Joshua Tack, a part Adventure Cycling's Member Services department. It appears weekly, highlighting technical aspects of bicycle touring and advice to help better prepare you for the journey ahead.